Herdabout Shelties Reg'd Philosophy
Pedigree
indicates what the dog should be
Conformation
indicates what the dog appears to be
Performance
indicates what the dog actually IS©
© Herdabout Shelties' philosophy was written by and is the copyrighted property of Jeff & Kellie Whiteside,
and is not to be used without express written permission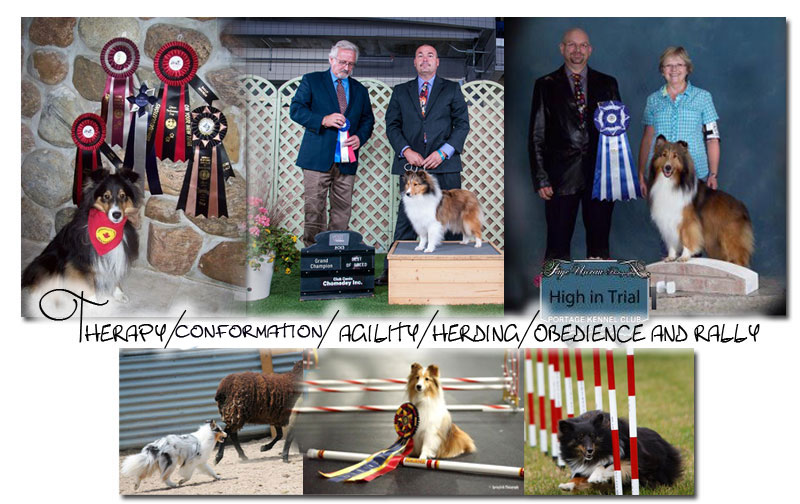 Herdabout GOALS
Our goal at Herdabout Shelties is to breed Shetland Sheepdogs who are structurally sound, well balanced, and can perform in all venues, (Agility, Obedience, Herding, Tracking, Conformation) but who also can be just a sweet and loving family companion, or therapy dog.
At Herdabout Shelties we do complete health testing on all our breeding dogs (each dog has a list of all the completed health testing and their scores on their individual page), it includes:
Eyes tested for OFA (Orthodepic Foundation for Animals) by a Board Certified Canine Opthomologist
Hips and Elbows Certified with OFA (sometimes PennHip scores as well)
Patellas Certified with OFA
Legges Calves Perthes Certified with OFA
Thyroid Certified with OFA including TgAA results
MRD1 DNA testing with WSU (washington state university)
VwD DNA testing with VetGen in Michigan and,
OFA Full Dentition (when applicable)
Herdabout Shelties does not link our breeding program with any other breeders. We no longer co-own, co-breed, recommend, or sell dogs/puppies for any other breeders. We are Responsible Breeders who are dedicated to improving the health and temperament of the breed and we insist on testing for all genetic disorders common in the breed in order to only breed from the best dogs available. Herdabout Shelties will not be linked to breeders who do not share the same passion for complete health tested dogs, or who do not complete all health testing in their breeding dogs.
We firmly believe that the breeders of today are responsible for what the breed will be like 50 years from now, what they will look like, and what their health will be like.
At Herdabout Shelties we actively compete with our own dogs in all venues. While we may not be spending money on hiring professional handlers, or be actively campaigning one of our dogs to be the top conformation or the top performance dog of the current year, the public can rest assured that we are putting our money and efforts into producing the healthiest Shelties we can. We stand 100% behind our written health guarantees.
At Herdabout Shelties we believe that health, structure and temperament are the most valued components in a breeding program. Therefore we will not eliminate a perfectly excellent quality Sheltie from our breeding program simply because the dog may be considered by some to be "mismarked" in colour. We are founders of a promotional group called SIT = "Shelties In True Colours" firmly believing that these colours should be allowed in the conformation show ring because they are in the genes. This YouTube video shows some of the award winning Herdabout Shelties that are Shelties in True Colours
Herdabout Shelties are regularly competing in Conformation, Agility, Rally-O and Obedience Trials. Please look around our website and see what our dogs have accomplished with us, and with others who own a Shetland Sheepdog from Herdabout Shelties Reg'd.