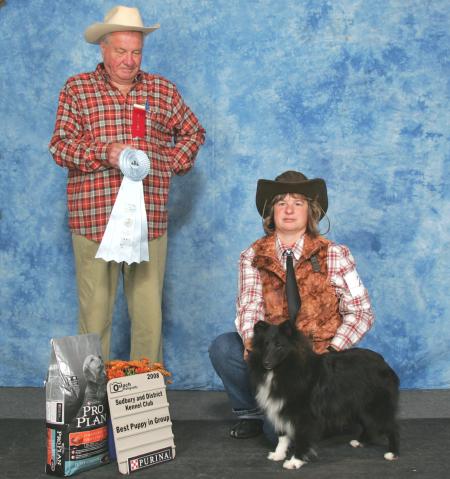 Kellie Whiteside handles Smitty to BPIG at the 2008 Sudbury and District Kennel Club Show.
Photo Credit: Paul Oslach Photography
In 1999, Jeff and Kellie decided to get into breeding Shetland Sheepdogs under the kennel name Herdabout Shelties.
After much research into pedigrees and bloodlines, the Whitesides finally decided on what to aim for and how to get there. The goal was to produce healthy and structurally sound shelties that could work in all venues. Looking back into the old line pedigrees and searching for dogs that had produced some of the all time top working shelties that could also win in the conformation ring.
Then working hard to bring more of those selected old lines back up to the front of the pedigree the best they could. Jeff and Kellie searched for the dogs to breed into their lines that would produce the results they wanted.
Carefully planned, selective breedings has allowed them to start achieving their goals. Between 2003 and 2008 Jeff and Kellie have managed to put 68 plus CKC titles on their own dogs, not including their dogs that have been placed with other folks who are out competing with a Herdabout Sheltie.
Members of the Canadian Kennel Club, the Canadian Shetland Sheepdog Association, and are both CGN Evaluators.