The test is open to all breeds of dogs – mixed and purebreds.
The CGN Test will cost $30.00 (cash only) which includes the test, as well as an official CKC CGN badge and a Title Rosette from Herdabout K-9 Academy to all those who pass the test. Two official CKC CGN Evaluators will be present.
Tests are limited to 15 dogs per trial date, judging rate of 5 dogs per hour, and the testing will occur between 11:00 am and 2:00 pm. Please email or call us at
(705) 429 - 0833 to book a day and time for your test, at either 11:00 am, 12:00 noon, or 1:00pm.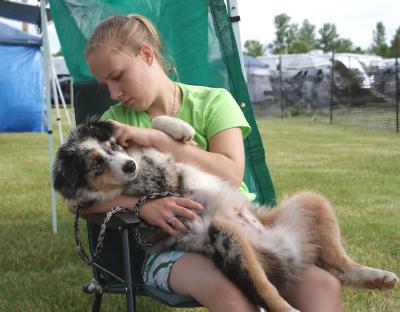 Please bring the following items with you to the CGN Test:
Leash & Collar (either flat buckle, martingale, or slip collar – made of leather, nylon, or chain). No Prong collars, head halters or body harnesses of any type are permitted for the test. Leash is to be a regular leash between 4 feet and 6 feet in length. No retractable leashes, or kennel/agility leads, will be allowed for the testing.

Brush, or comb for your dog.

$30.00 cash (sorry cheques not accepted)

Paper proof of vaccinations (certificate of regular vaccinations plus rabies). This means a signed certificate for DHPP and Rabies vaccinations from a qualified veterinarian, (NOT your sales receipt for the payment of the vaccinations). Titers tests will NOT be accepted in lieu of vaccinations, but a 3 year vaccination certificate for rabies will be accepted.

Proof of Township Dog License (if applicable to you in your area)

Your dog's CKC registration number (if your dog is a registered purebred)

Poop & Scoop bag

And please only bring the dog(s) to be tested that day.

No dog showing evidence of any external parasites, or showing signs of eye, ear, or skin infections will be accepted for the test.
Note: No treats can be used during the CGN Testing, but may be given to the dog(s) outside of the testing area either prior, or after the testing has been completed.
If you would like to find out more about CGN Testing procedures, Herdabout K-9 Academy holds a four-week obedience class to help you and your dog prepare for the test. Please click here to find out more information